THE PRIMER:
It was an entertaining weekend highlighted by great football and baseball playoffs, but only one moment will go down in college football history: the miracle Michigan State win over Michigan.  Our three stories to know focus on one of the most epic endings in sports:
The play – a botched punt returned for a touchdown as time expired
The players – a punter who went from hero to zero, and a defender who wound up hospitalized
The aftermath – the reaction to heartbreak and outlook moving forward
---
THE PLAY
Michigan got the ball back up 23-21 with 1:42, needing to gain just one first down to run the clock out. This would be the Wolverines' first win vs. rival Michigan State since 2012.  Even though the Spartans forced a punt with 10 seconds left, Michigan had a 99.8% chance of winning. Until this happened:
(click here for the full video if your device doesn't support GIFs – the announcer's call is also epic)
–
Michigan State won 27-23. Their first lead in the game came with 0:00 on the game clock.
---
THE PLAYERS
For Michigan – the Australian punter who let it slip 
The most cruelly creative name for the play is the Blunder from Down Under. Punter Blake O'Neill grew up playing Australian rules football and is now a graduate student at Michigan. This is just his second year of American football. Before his fortunes turned, O'Neill unleashed an 80-yard punt in the first half that some referred to as the greatest punt they'd ever seen.
–
'Fans' respond with vitriol
O'Neill has not commented since the game but his teammates have expressed unwavering support. In the aftermath, Twitter trolls derided O'Neill so much that the Michigan Athletic Director
penned an open letter
asking threatening fans to come to their senses.
For Michigan State – the fallen hero had a Dickens of a night
It was the best and worst of times for Michigan State safety Jalen Watts-Jackson. He recovered and returned the game-winning fumble, only to suffer a broken hip at the bottom of the dogpile celebrating the score. He'll miss the rest of the season after a successful surgery.
---
THE AFTERMATH
"Steel in our spine"
Undefeated Michigan State has the only chance to make the College Football Playoff, but both of these teams can still win the Big 10 Conference.  Michigan coach Jim Harbaugh said he was "proud of how our team played. We have to have resolve, steel in our spine, and move forward."  His players echoed the refrain.
Showdown(s) with Ohio State loom
Each of these squads has an upcoming date with the country's #1 team, Ohio State.  Buckeyes' Coach Urban Meyer has been utilizing an awkward two-QB rotation this season, but may have his man after J.T. Barrett dazzled in relief of starter Cardale Jones during a 38-10
win over Penn State
.  Barrett was great as the starter last season before suffering an injury, and Jones filled in and led the team to the National Championship.
---
BASEBALL
The Daniel Murphy Home Run Club keeps growing
Clayton Kershaw, Zack Greinke, Jon Lester, and Jake Arrieta. This is a list of some of the top pitchers in baseball, and also the four men that have given up home runs to Mets second baseman Daniel Murphy in the last week. After hitting 14 homers all season, Murphy has five in the seven Mets playoff games. Talk about getting hot at the right time.
Series updates, two games in 
Note – baseball has a 2-3-2 home field format, so the next three games (if they need all three) will be in Toronto and Chicago. They'll try and top the raucous crowds in Kansas City and New York.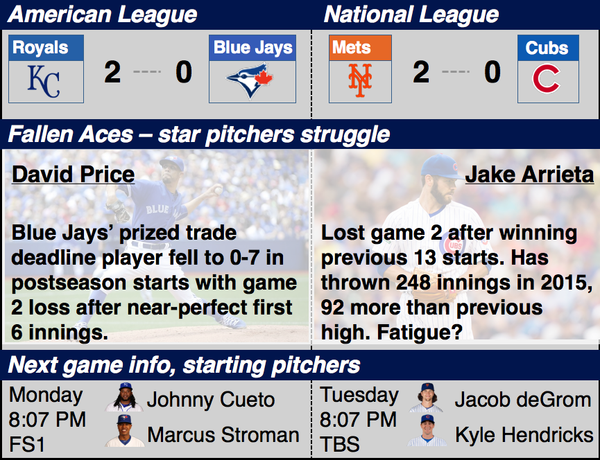 Chicago – a Bears town with Cubs fever
The Cubs may capture Chicago headlines and hearts, but the Bears get the eyeballs. Through Saturday, the NFL's Chicago Bears averaged 22% more local viewers on their way to a 2-3 record than the Cubs did in their first five postseason games. Football is king. Source – awfulannouncing.com.
---
NFL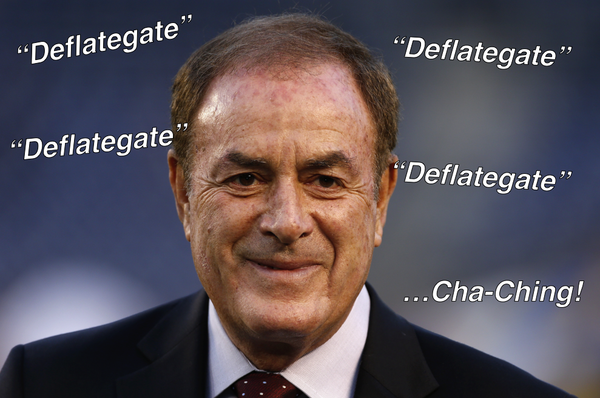 Brady and Patriots win Sunday night 'Deflategate' rematch
The New England Patriots (5-0) got their revenge on the Indianapolis Colts (3-3), the team who originally reported Tom Brady for using deflated footballs in last year's playoffs. The momentum turned on a
truly bizarre failed fake punt
by the Colts, already nicknamed the 'Snapfu'.
Broadcaster Al Michaels delivered the game's best moment when he acknowledged a popular bet regarding how many times 'Deflategate' would be said during coverage. Then he
said "Deflategate" four times
and ruined the bet (and potentially made himself some quick cash, but we'll never know).
Panthers come back to trump Seahawks
The fire alarm went off in the Carolina Panthers (5-0) hotel at 5:30am on Sunday, but the Seattle Seahawks (2-4) are the team that needs to panic. Carolina QB Cam Newton looks MVP-worthy, and the Panthers are enjoying first place in the NFC South after the Atlanta Falcons suffered their first loss.
On the other side, the Seahawks suffered another late-game collapse as they've now blown 4th-quarter leads in all four losses this season. Right now Seattle looks more likely to miss the playoffs than return to the Super Bowl.
Peyton locked in epic duel vs. Father Time
Luckily, football is a team sport. Few would've guessed the Denver Broncos (6-0) would be undefeated despite aging QB Peyton Manning leading the NFL in interceptions (10). Manning has vacillated between looking marvelous and washed up this season, sometimes within the same game, but the Broncos have a great defense and he's done enough to keep winning. Denver survived a scare in overtime against the Cleveland Browns (2-4), and now has a bye week before meeting fellow unbeaten Green Bay on Sunday Night Football in two weeks.
Division rivals clash on Monday Night Football
New York Giants (3-2) vs. Philadelphia Eagles (2-3), 8:15pm ET, ESPN
First place in the NFC East is on the line when these two familiar foes square off. Fans are the real winners as Giants WR Odell Beckham Jr. and the uptempo Eagles attack both make for compelling offensive football. Philadelphia is favored by 5.5.
---
LSU stays in SEC driver's seat with tricky victory
#6 LSU's star running back Leonard Fournette did his standard damage with 180 yards running and two touchdowns, but it took a fake field goal for the Tigers to put away the #8 Florida Gators 35-28 (see below). Not one to play it too cool, the LSU kicker Trent Dominique admitted his whole body was shaking with nerves and he "kind of blacked out in the middle of it."
–
See you again in Atlanta?
There's potential for a rematch of this Florida-LSU matchup in the SEC Championship. Florida plays Georgia on Halloween in a game that should decide the SEC East. LSU must survive the SEC West gauntlet, including games against Alabama and Texas A&M. On Saturday, #10 Alabama returned three interceptions for touchdowns and
beat #9 Texas A&M 41-23
.
Georgia stays in SEC title hunt after emotional moment between coach and kicker
This story has the opposite ending of the Michigan punt. After missing a short field goal that would've given Georgia the lead against Missouri, kicker Marshall Morgan got
encouragement from coach Mark Richt
that was inspiring and bigger than football.  Marshall delivered when given another chance and the Dawgs prevailed 9-6, their first win without scoring a touchdown since 1995.
Elsewhere around the country, playoff outlook largely unchanged 
Leading teams in the ACC and Big 12 won without drama. Crazy stat to know on the #2 Baylor offense: the Bears set a record by scoring 56 or more points in their first six games. Star wide receiver Corey Coleman already has 16 touchdown catches, more than all but 13 teams. 
The state of California has one remaining playoff contender, Stanford.  The #15 Cardinal dealt #18 UCLA its second loss on Thursday night, a game most memorable for this jaw-dropping catch by Francis Owusu:
–
The latest AP Top-25 (including three undefeated teams from the American Athletic Conference)
---
ONE-HIT WONDERS
Boxing may have its next Mayweather-Pacquiao 
Kazakshtan's
Gennady Golovkin
(aka GGG) won in his first pay-per-view match on Saturday night and has now knocked out 21-straight opponents. He's a charismatic superstar and appears on a collision course with Mexican hero Canelo Alvarez.
The future of American marathoners is just getting started
Until the Chicago marathon last week, the fastest male and female American marathoners were 40 and 42-years-old, respectively. Luke Puskedra is the
new American hope
. He finished 5th in Chicago, but it was just his third marathon race ever. And he's only 25.
Shares of online Poker company are surging
The stock price for
Amaya is up 30%
after New Jersey granted permission for sites PokerStars and Full Tilt to run real-money online poker.
Once-in-a-generation hockey talent hits Edmonton
The lazy comparison is to equate Oilers rookie Connor McDavid to hockey legend Wayne Gretzky, but it might also be the most fitting. A profile on the
rookie phenom
expected to carry a city's hockey hopes.
(Fake) Wrestling coming to an ESPN near you
---
PRIMER NUGGET
The story of 'Marlins Man'
If you're watching the baseball playoffs, you may notice a seemingly out of place fan. Laurence Leavy, an attorney from Miami, is better known as 'Marlins Man.'  He wears aggressive orange Marlins gear to all kinds of sporting events, a practice he says isn't for notoriety, but rather so his friends and associates can spot him on TV. 
For many years, Leavy was a season ticket holder through his company in Miami and often gave away tickets to clients. That was until he was misdiagnosed with liver cancer, causing him to reevaluate his life. In that period, he made it a mission to embrace the experience of attending sporting events himself and began attending the very best events in the very best seats. Once he realized how unique this experience could be, he set out to make this opportunity possible for others. He now invites friends, colleagues and even strangers to accompany him in his high-profile seats.