THE PRIMER:
A busy fall sports slate continues this weekend. With a lot left to be decided, we want your predictions on who will make the College Football Playoff. But first, three conversations worth having:
"Is there any way Louisville basketball coach Rick Pitino can keep his job amid this sordid scandal?"
"The Chicago Cubs may have captured American hearts, but they got steamrolled by the New York Mets."
"The NFL wants us to #WatchWithTheWorld on Sunday. Too bad it's a terrible matchup."
---
PITINO DOES NOT PLAN TO STEP DOWN AMID FULL-COURT PRESS OF SCANDAL ALLEGATIONS
The latest
Five former Louisville players or recruits corroborated the story that a former assistant coach allegedly
paid a woman to arrange stripping and sex parties
in an effort to lure players to the school. Louisville coach Rick Pitino denies any knowledge of wrongdoing.
What's next
We wait to hear from the implicated assistant coach, Andre McGee, now at University of Missouri-Kansas City. Pitino urged McGee to "come out and tell the truth." The real smoking gun would be the source of the money that McGee used to pay the escorts, as it's unlikely that he forked over $10,000 from his own pocket.
Bottom line
It's hard to imagine Pitino surviving this scandal at Louisville, and it's surprising that the University hasn't suspended the coach while it investigates.
–
---
METS SWEEP CUBS, BLUE JAYS VIE FOR COMEBACK
Murphy keeps homering as Mets drive out Cubs

Mets second-baseman Daniel Murphy is the latest Cubs tormentor, and has now hit home runs in a record *6 straight* playoff games. In the famous Chicago Cubs
'Curse of the Billy Goat'
, the goat barred from the stadium is named… wait for it… Murphy. Even for baseball's superstitious culture, that's bizarre.  Once the champagne washes out, the Mets will rest and wait for their World Series opponent to emerge.  As for the Cubbies – there's always next year.
American League Championship Series heads back to Kansas City with the Royals up 3-2
The Toronto Blue Jays faced elimination in game 5 on Wednesday and won an emotional game, powered by mid-season acquisition Troy Tulowitzki. Needing two more consecutive wins to advance, the Jays hand the ball to star pitcher David Price (another trade acquisition) for game 6 on Friday night. Price is typically the guy the Jays want on the mound, but he has been far from lights-out in his postseason career thus far. Expect the Kansas City crowd to be as loud as any this season as the Royals try to clinch a return trip to the World Series.
–
---
YAHOO TO STREAM NFL GAME WORLDWIDE FROM LONDON; COOL IDEA, BAD MATCHUP
Live streaming = the future?
The NFL is across the pond again this weekend, and for the first time Yahoo will live-stream the game to an international audience. This distribution method could be a peek at the future, whether monetized through ads or subscription.
Bills-Jags matchup lacks mojo
The Buffalo Bills playing the Jacksonville Jaguars hardly compels you to hop out of bed for a pint and some bangers and mash. The teams have combined for two playoff appearances since Y2K, and things aren't looking up this year. Why wouldn't the NFL put its best product on an international stage?
Quick: guess the halftime entertainment
U2? Bruce Springsteen? Nope – the Ohio State University marching band. The NFL wanted some halftime show variety, so it invited (and paid for) the full 225 member band to travel and perform in London. This is as random as it seems.
---
NFL FOOTBALL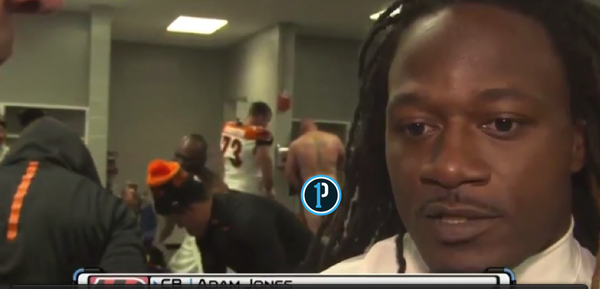 Bengals players on the news while changing
Some Cincinnati Bengals players were shown on TV bare-bottomed during post-game locker room interviews, and they were not pleased. Bengals offensive lineman Andrew Whitworth raised
interesting points
around workplace privacy rights and having to change in front of media strangers. He suggested that a firestorm would've ensued had they been a women's team.
So much for parity in the NFL
Earlier this fall we used the Atlanta Falcons schedule to show how the NFL incentivizes competitive records by
forcing better teams to play harder schedules
.  Nevertheless, there are a record number of undefeated teams at this point in the season. The Carolina Panthers, Cincinnati Bengals, Denver Broncos, Green Bay Packers, and New England Patriots are all unblemished.
Best games to keep tabs on this weekend
Division rivals on Thursday night football: The Seattle Seahawks and San Francisco 49ers are both disappointed with 2-4 records, but looking for a statement win to catalyze their seasons. Seattle is favored by 6.5.
First place teams clash on Sunday primetime: The Philadelphia Eagles (3-3) stumbled out of the gate, but have momentum coming into a showdown with the Carolina Panthers (5-0). Carolina is favored by 3.
–
---
COLLEGE FOOTBALL
It's the least-compelling weekend of football for the rest of the season, with only one game between ranked teams
#15 Texas A&M visits #24 Ole Miss in a battle to keep SEC West title hopes alive. Ole Miss is favored by 6.
#3 Utah an underdog: The undefeated Utes are 3.5-point underdogs at unranked Southern Cal. That makes Utah the highest-ranked underdog vs. unranked opponent in more than 20 years.
ESPN is using the down weekend to send College Gameday to James Madison for their game vs. Richmond.
Ongoing debate: Who will make the College Football Playoff? 
Until the 13-member College Football Playoff selection committee chooses the best four teams on December 6th, conjecture will only intensify.
As the below graphic shows, many contenders still have to play one another. It's fun to ponder chaotic developments that would throw a wrench in the selection process.  What if the SEC Champion has one loss, but the other conference winners go undefeated, does the mighty SEC get left out?
–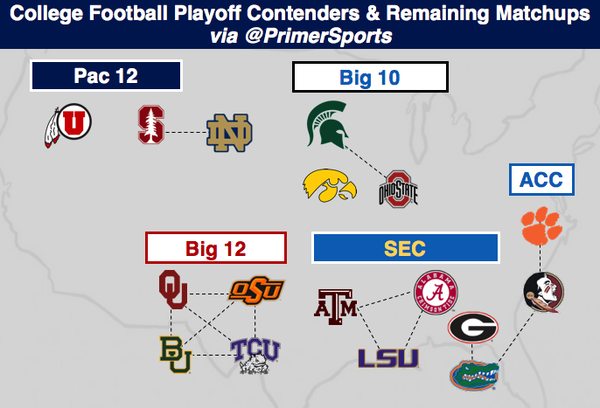 Primer poll: Predict the four Playoff teams
We want to hear who you think will make the CFP. Take
this poll and tell us your top 4
, and then anyone getting all four teams correct will get a Primer gift pack in December.
---
The NBA season snuck up but is now just five days away
The regular season starts Tuesday. Check out our
Primer season preview
, with four quick lists to get you pumped for the season. Topics include: favorites to win the title, teams to keep an eye on, rookies to follow, and prominent players in new uniforms.
–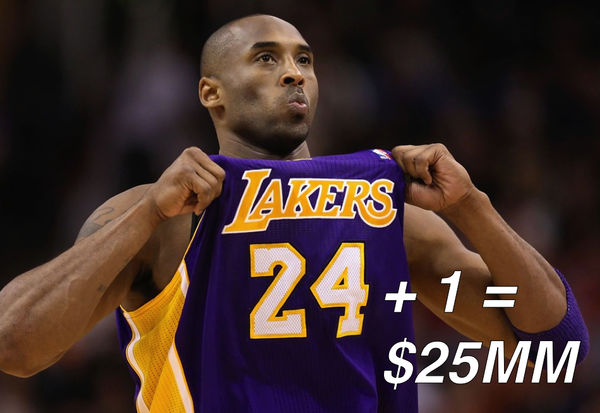 Kobe Bryant: NBA's highest-paid player, no longer NBA's best player at age 37
In 2013, the Los Angeles Lakers decision to sign an aging, injured Kobe Bryant to the highest-paying deal in the league raised eyebrows. Kobe was slowing down, and the team would lack salary cap room to sign other marquee players. Those worries have proven correct. But in an interesting interview, Lakers part-owner Jim Buss said that paying Bryant was a "no-brainer" and viewed it as a
contract earned through lifetime achievement
. Paying for past performance is an interesting business philosophy.
UPDATE: Thabo Sefolosha suing NYPD, NYC for 50 million dollars
The Atlanta Hawks player had his leg broken by the police and is suing on the grounds that he suffered
"permanent" injury
and is "substantially disabled." It's worth noting he is back to playing.
---
ONE-HIT WONDERS
DraftKings and FanDuel team up to lobby
Amid increasing lawsuits and public outcry, the two major Daily Fantasy Sports players have combined to
go the Uber route
and urge customers to petition any government action that seeks to stop the quasi-gambling sites. They should merge while they're at it.
Boston Red Sox Carlton Fisk's iconic home run turns 40 (baseball)
Tiger Woods has back surgery, still covets four more major titles (golf)
Tiger expects his recovery to be long, tedious, and painful, but still
wants to compete
"at an elite level with the new kids for a long, long time."
SoulCycle: grueling workout, unstoppable brand
–
What are those?! Michael J. Fox is rocking self-lacing Nike shoes from Back to the Future II
Nike sent the star his very on pair of
Nike Air Mags
on 10/21/2015, the future day that his character Marty McFly visited in the movie.The shoes are expected to be auctioned off in spring 2016 with proceeds benefitting the Michael J. Fox Foundation for Parkinson's research.
–
---
PRIMER NUGGET
Drake drops 'Hotline Bling' video, Caleb is the real MVP
Drake released a video for his latest single Hotline Bling, and it's
worth checking out
. The video is strangely hypnotic, will be all over popular culture, and proves that if you reach a certain level you can just do whatever you want (in this case, "dance" in a multicolored parallelogram).
The video also gave rise to one of the greatest internet memes ever:
Let the record show that
@Caleb_Natale
 made the meme, but didn't get proper credit for it. To quote Drake: "When all is said and done, more is always said than done."  Here's your credit for doing it, Caleb.