You'll get *three* Primer Sports e-mails weekly from now on as we move to a M-W-F distribution schedule. Our goal is to pack the e-mail with value for you while making length more manageable, and you can read more about our strategy at the end of this e-mail. Now for the good stuff:
THE PRIMER:
It was a jam-packed sports weekend and even more action tips off this week. Three conversations to have today:
"It was another wild College Football weekend. Did you see the Georgia Tech play and that two top-10 teams lost to unranked opponents? Chaos!"

"Who are you rooting for in the World Series, the New York Mets or the Kansas City Royals?"

"We'll remember this Sunday as the first time an NFL game was streamed online. Seems like the future."
–
---
GEORGIA TECH UPSET HIGHLIGHTS DRAMATIC FOOTBALL SATURDAY
Georgia Tech earns bright spot in tough season
Tied 16-16 in the waning seconds, Florida State lined up to attempt a field goal that would've dealt Georgia Tech its 6th-straight loss in a season that once saw the Jackets ranked #14 and thinking ACC title. Instead, Georgia Tech blocked the kick and returned it 75 yards for a game-winning touchdown as time expired. Cue the bedlam.
–
It's worth checking out the
recap of this awesome finish
to hear the announcer call the full highlight and see the meme of Georgia Tech coach Paul Johnson's hilarious reaction. Even better: in the video above, #17 and #20 for Georgia Tech are twin brothers Lance and Lawrence Austin. What an amazing memory this will be for them! Sometimes sports give you all the feels.
–
---
WORLD SERIES STARTS ON TUESDAY
–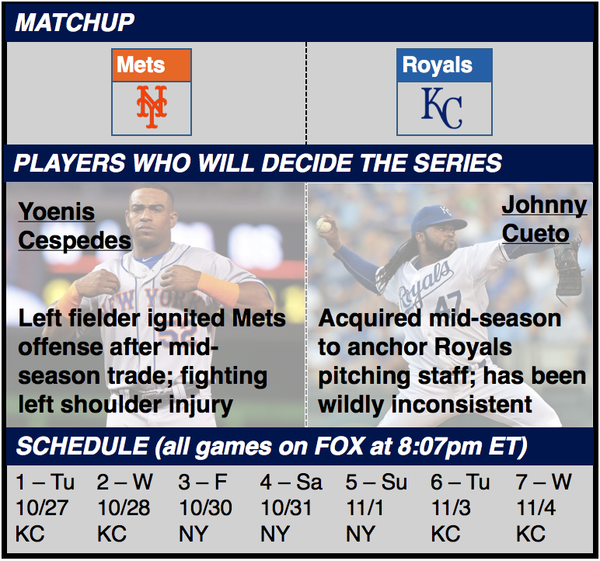 Why you should cheer for the New York Mets
The Metropolitans have played second fiddle in their own city for too many years, watching the Yankees claim 5 World Series titles since the Mets' last win in 1986. This year's team has arguably the most talented and hardest-throwing four-man pitching rotation in baseball history, and the "oldest" among them is 27. The Mets are young and hungry, fun to watch, and due.
Why you should cheer for the Kansas City Royals
The Royals are a team your granddad would root for. They play old-school baseball reliant on defense, baserunning, and a strong bullpen. They also have one of the best crowds in baseball. After making it to the World Series last year for the first time since 1985 and losing in game 7, the Royals deserve to get it done this year.
–
---
YAHOO NFL STREAM SHOWS POSSIBILITIES
–
Details from a successful Sunday
The Jacksonville Jaguars held on to beat the Buffalo Bills from London on Sunday morning, but the game's distribution was more significant than the outcome. Yahoo streamed the game worldwide and received largely favorable reviews. Yahoo outbid Google and Twitter and paid ~17MM to carry the game, roughly half of what CBS pays per Thursday night game. Yahoo secured 30 top brands and sold out available ad inventory.
Future implications
The NFL and Yahoo viewed this as a grand test run. NFL rights are booked until 2022, but this sets the stage for increased competition for future deals. Tech companies will likely jump in rights negotiations to stream other sports. This is a reality that can't have traditional TV network executives feeling too warm and cozy.
---
QUICK HITS FROM AROUND SPORTS
NFL FOOTBALL
–
Levine on the Super screen: It's not finalized, but Maroon 5 is the likely choice for Super Bowl 50 halftime performance. *cough should've been Taylor Swift cough*
Patriots cruising, not running: The New England Patriots (6-0) beat the New York Jets (4-2), despite their leading rusher having just 15 yards…and it was QB Tom Brady. This was the first time in his career he's led the team in rushing.
Panthers win first-place battle: The Carolina Panthers (6-0) outlasted the Philadelphia Eagles (3-4) on Sunday Night Football and are off to the best start in franchise history.
Foster out for season: Houston Texans running back Arian Foster tore his achilles and will miss the rest of the season.
Ravens take on Cardinals on Monday Night: The Baltimore Ravens (1-5) visit the Arizona Cardinals (4-2). The Cardinals are favored by 9.5.
COLLEGE FOOTBALL
Stogies despite NCAA violations: The above picture shows Alabama enjoying victory cigars, a tradition for the winning team in the 'Third Saturday in October' rivalry against Tennessee. Interestingly, the winning team also self-reports an NCAA violation each year — giving players tobacco counts as extra benefits. Saban doesn't look too worried.
Miami coach canned: After #6 Clemson handed Miami the worst loss in school history (58-0), Miami fired embattled head coach Al Golden and began the search for a potential successor.
#2 Baylor QB injured: Star Baylor quarterback Seth Russell fractured a bone in his neck on Saturday. His status moving forward will be determined this week. Baylor's backup Jarrett Stidham is a true freshman, but he's appeared in every game this season and is the most heralded QB prospect to ever enter the program.
–
NBA BASKETBALL
NBA season tips off Tuesday night: National TV action kicks off when the Chicago Bulls host the Cleveland Cavaliers at 8:00pm ET on TNT followed by the New Orleans Pelicans visiting the defending champion Golden State Warriors.  We wrote a quick Primer-style preview of the NBA season for you.
Minnesota coach Flip Saunders passed away from cancer: He was 60 years old. Flip was best known for having a great offensive mind and helping to develop the skills of a young Kevin Garnett straight out of high school. The NBA community is

mourning the loss

.
Popovich to take over US Olympic team: Long-time San Antonio Spurs coach Greg Popovich will coach the U.S. in the 2020 Olympics. Current coach Mike Kryzyzewski will attempt to win his 3rd Gold Medal in 2016 Olympics before stepping down. Pop will be 70 years old in 2020, and this could begin an era of an NBA coach leading one Olympic team then rotating.
–
SOCCER
After a dramatic #DecisionDay, the 12-team MLS playoffs are set. With half the playoff teams either in Canada or the Pacific time zone, the MLS has the opposite geographical feel of Southeast-centric College Football.
ONE-HIT WONDERS
Exploring Lamar Odom's visit to the Nevada brothel
ESPN's Ramona Shelbourne visited the Love Ranch and spoke with the women Lamar Odom spent time with. This is an even-handed (but long) look at
Odom's time in Nevada
and the psychological state that led to him searching for an escape.
Familiar foes in the Rugby World Cup finals
Australia and New Zealand have played each other more times in rugby than any other nations, but
never in the Rugby World Cup Finals
. Twickenham (southwest of London) will be the focus of the international sporting community on Saturday for the final.
The history of MLB champagne celebrations
Once a spontaneous expression in the moment,
baseball's boozy celebrations
are now influenced by sponsorship rules and conduct guidelines — and can be logistical challenges to pull off.
---
PRIMER NUGGET
Never hoop on playgrounds without a net again
The above product is called the Black Net, and the goal (no pun intended) is that you can easily shoot it on a streetball goal that lacks a net.
The website has a
cool video and FAQs
 about the not-yet-released product. They show lots of dunking but fail to address a seemingly-core issue: how does this impact the ball bouncing on the rim when you shoot it?