Reminder: we've moved to M-W-F distribution to keep each e-mail value-packed and manageable to read through. Let's do this. 
THE PRIMER:
Things can't get much better on a Tuesday in sports than the World Series and NBA season both getting started. Three things for today:
"The Kansas City Royals won in 14 innings, the longest game 1 in World Series history."
"Is an NFL team moving to Los Angeles next season? Are two?"
"The difference between the Champions League, Premier League, and a breakdown of international soccer."
---
ROYALS HOLD ON IN EPIC GAME 1
–
(Temporarily) blacked out thriller
The Fox coverage had technical difficulties and went dark for 23 internet-exploding minutes, an occurrence that writer Bill Simmons suggested was a conspiratorial ploy to get people talking about the World Series. There was still plenty of action in the five hour game, as Alex Gordon of the Royals hit a game-tying home run in the bottom of the 9th inning and KC went on to win on a sacrifice fly in the 14th. 
Game 2 is tonight at 8:07pm ET on Fox. Pitchers: deGrom (Mets) vs. Cueto (Royals)
---
NFL HOLDS 'RELOCATION HEARINGS' WITH MOVE TO L.A. IMMINENT
–

Battle Hearings for Los Angeles
In an unprecedented move, the NFL is holding 'town hall' meetings in three cities that are contemplating moving their franchises to Los Angeles. The St. Louis Rams
held the first hearing
last night. Fans opposing the move were emotional and called for clarity around guidelines for for decision making. The San Diego Chargers and Oakland Raiders will host hearings on Wednesday and Thursday.
New city = new stadium, market potential
Threatening a move to Los Angeles has been used as a bargaining chip by more than half the league in the last twenty years to help convince cities (and tax payers) to pony up for stadium upgrades. All three of these teams have impasses on new stadium deals with their cities.
Most likely scenario: 1 or more teams in LA
It appears that at least one franchise will be in the City of Angels next season. The Rams have plans for a stadium in Inglewood, while the Chargers and Raiders may share a stadium in Carson, which is a haul for current local fans (see below). The NFL created a relocation committee to review proposals, and any move requires 3/4 owners approval. The losers in this situation are the fans – left behind and with virtually no recourse.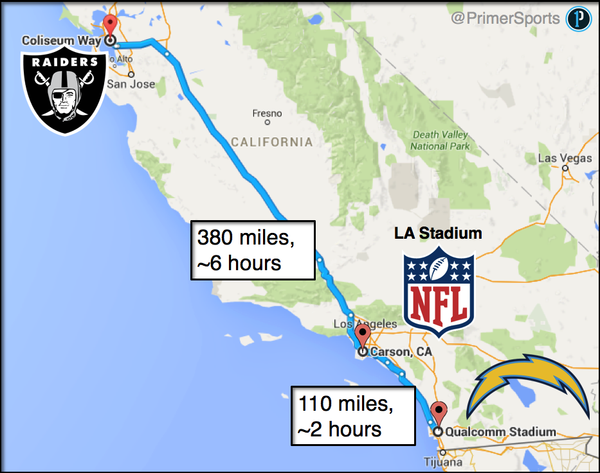 –
---
EXPLORING THE INTERNATIONAL SOCCER LANDSCAPE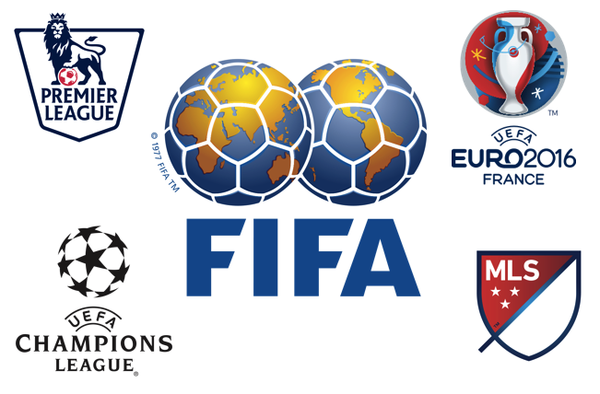 In London, fans of Arsenal are simultaneously pleased because they're near the
top of the Premier League
but peeved because they're unlikely to advance past group play in the Champions League. Meanwhile in the US, the
MLS playoffs start today
but include a two-week hiatus for World Cup qualifying matches.
–
---
QUICK HITS FROM AROUND SPORTS
NBA BASKETBALL SEASON BEGINS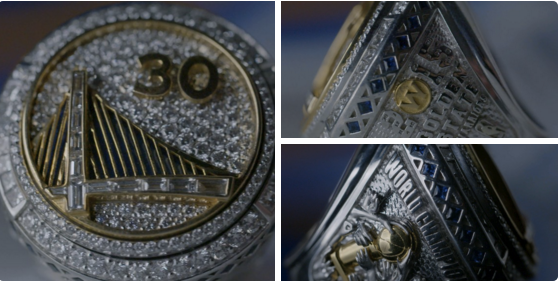 NBA hopes to cash in with 'micro-payments': For the first time, NBA fans can buy and stream individual out-of-market games. In just two clicks from social media, you can be in the NBA app and watch any game for 6.99. The price is steep to stream an entire game, but indicates micro-payment momentum. Future years could include the ability to pay a smaller fee for crunch time action (say, 50 cents to watch the final 3 minutes of a close game).
Opening night omen: The last 11 NBA champions started the season with a win, a trend the defending-champion Golden State Warriors now hope continues. The Warriors got their rings, and MVP Steph Curry went right back to work with 24 first-quarter points (!) en route to scoring 40. Chef Curry cooking with hot grease:
–
NHL HOCKEY SEASON ALREADY UNDERWAY
No longer a Canadian majority: For the first time in the NHL's 98-year history, the majority of players are not Canadian citizens (it's 49.7%, but still). Americans constitute 25% and have been on the rise since 2008, as have the Swedes with 9%.
Phenom leads youth revitalization: This could be the best NHL rookie class ever, headlined by transcendent Edmonton Oilers talent Connor McDavid. 2nd-generation NHLer Max Domi is leading all rookies in points (goals + assists) — he's got a mean backhand:
–
ONE-HIT WONDERS
Florida show horse is stolen, butchered for meat

In a bizarre and troubling story, a
missing horse was found dead
in a remote part of an equestrian center in Florida. The horse had been filleted in a manner that appeared professional. There are no leads on the crime, which is being treated as burglary and grand theft.
Golf updates its rules: no belly putters?
Golf governing bodies
tweak official rules
every four years. Notable this time: no more long 'anchored' putters (aka belly putters) , and no more penalty if the ball moves accidentally while a player is getting ready to hit.
Trade organization creates Fantasy Sports Control Agency
The former U.S. Secretary of Labor will oversee the agency, charged with creating a
system of strict, transparent self-regulation
for the Daily Fantasy Sports industry. Over 10MM people play Daily Fantasy; there is clearly mass-market appeal. Regulation should make the process more fair and enjoyable.
–
---
PRIMER NUGGET
America's most prolific inventor tries to stop concussions in football
Bloomberg ran a fascinating (and long) article about
patent king Lowell Wood
. We were struck by his in-process work to prevent concussions before they happen.
Wood is engineering a solution that would, upon volatile impact, fuse a player's helmet and shoulder pads together to stop whiplash and keep the brain from banging the skull. It might lead to a broken collar bones, but those heal with fewer long-term impacts than brain trauma.