The NBA season tips off on Tuesday night – our preview gets you in the know with four quick lists:  NBA title favorites, interesting teams to keep an eye on, players with new teams, and rookies to watch. Enjoy!
Five favorites to win the NBA title
1. Cleveland Cavaliers 
The Cavaliers very well could've won it last season had they stayed healthy. They've since inked their entire nucleus to long-term deals, and look to build around LeBron James, Kyrie Irving, and Kevin Love in their second year together.
2. Golden State Warriors
The Warriors did win it last year, powered by MVP Steph Curry and phenomenal offensive basketball. The team seems to be thriving on the notion that they got lucky last year and they're out to prove doubters wrong (whether real or imagined).  They'll start the season without head coach Steve Kerr as he recovers from back surgery.
3. San Antonio Spurs 
The Spurs had perhaps the best offseason of any NBA team. Star free agent LaMarcus Aldridge chose San Antonio over bigger markets like LA and NYC. The Spurs also convinced veteran forward David West to take a $10M+ paycut to join winning basketball. Combine that with the returning nucleus, and the Spurs seem poised to send Tim Duncan out with one last title.
4. Los Angeles Clippers 
If the Spurs had the NBA's best offseason, the Clippers might've had the most eventful one. LA's recent favorite team almost had to go back to the drawing board when center DeAndre Jordan chose Dallas in free agency. He changed his mind, the Clippers added Paul Pierce and Lance Stephenson, and suddenly they're well-positioned to get over the hump in the Western Conference.
 5. Oklahoma City Thunder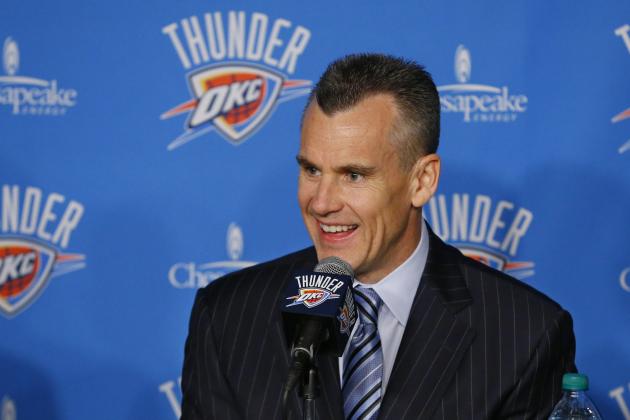 The Oklahoma City Thunder are finally healthy, and they have a new head coach to lead another run in the West. Billy Donovan joined the Thunder after a legendary career at University of Florida. It will be interesting to watch his schemes deployed in the NBA. Our suggestion: figure out the best way to get stars Kevin Durant and Russell Westbrook the ball in position to score, and let them do the rest.  Durant is a free agent after this season, a fact you may be reminded of 1,462 times in the coming months.
Five teams to keep an eye on
1. Milwaukee Bucks 
The Bucks are the most intriguing team in the league. They're also borderline overrated because enough people are writing that they may be underrated… #meta. Either way, they've got a great young squad, all kinds of length, and mojo with slick new uniforms. Free agent center Greg Monroe (#15) picked Milwaukee over bigger markets like NYC because he was buying what coach Jason Kidd was selling. Look for the Bucks to make a playoff run.
2. Washington Wizards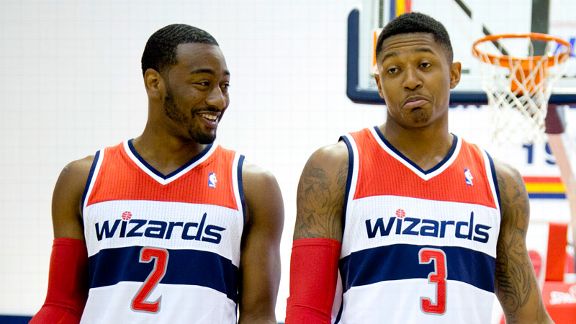 The Wizards didn't make any big moves this summer, they're just a year older and (hopefully) a year better. John Wall and Bradley Beal make up arguably the league's best backcourt duo, and SF Otto Porter could be on the verge of a huge year. But will that be enough to get them over the hump in the Eastern Conference?
3. Atlanta Hawks 
The Atlanta Hawks have a snazzy new court and uniform design. But is it masking an inferior basketball product compared to last year's surprisingly awesome 60-win team? The Hawks lost star SF Demarre Carroll but return the rest of a squad that made the Eastern Conference Finals.
4. Los Angeles Lakers 
On paper, the Lakers appear cobbled together and it's likely they're not going to make anything close to a playoff run, yet they'll be compelling to follow. Rookie PG D'Angelo Russell and second-year PF Julius Randle (pictured, with Kobe) may win multiple titles in the purple and gold (hot take, but seriously). We didn't even mention an aging-yet-still-shooting Kobe Bryant, or the always-entertaining Nick Young.
5. Minnesota Timberwolves 
Do you ever see pictures of LeBron James circa 2004 and think he looks like a kid? That's how you'll one day remember the above shot of last year's rookie of the year, Andrew Wiggins. The Timberwolves are loaded with young talent, including Wiggins and this year's no. 1 pick, former Kentucky star Karl-Anthony Towns. Throw in the electric passing of Ricky Rubio and the last hurrah of old man Kevin Garnett (wouldn't say that to his face), and the T-Wolves will be interesting to follow this year.
–
Five notable players with new teams this season
1. Ty Lawson, Houston Rockets PG (previously Denver Nuggets)
Lawson has struggled with alcohol issues. At worst, the speedy point guard brings unneeded baggage to Houston. At best, he could be the missing link that pairs with James Harden and Dwight Howard to help the Rockets take off.
2. Demarre Carroll, Toronto Raptors SF (Atlanta Hawks)
The 'Junkyard Dog' got a nice $13M raise to head north of the border. But he also left a near-perfect basketball home for his skillset as a lockdown perimeter defender and spot-up 3-point shooter. There aren't many precedents for leaving a great situation and continuing to thrive, but Carroll has as good a shot as anyone.
3. Nicolas Batum, Charlotte Hornets SF (Portland Trail Blazers)
Batum may be one of the best players to have never averaged 15 or more points per game. Charlotte traded for him hoping that he will carry more of the offensive load. He'll have to, especially with Michael Kidd-Gilchrist out for the season.
4. Rajon Rondo, Sacramento Kings PG (Dallas Mavericks)
Rondo is an enigma. It seems so likely that he feuds with one or both of coach George Karl or star Demarcus Cousins that maybe he'll just get along with each of them? Said differently, no headline about Rondo in Sacramento would shock us, unless it was 'Rondo keeps raining three-pointers.'
5. Monta Ellis, Indiana Pacers SG (Dallas Mavericks)
The Pacers signing Ellis was a bit surprising, as his scoring and offensive flair don't gel perfectly with Indiana's style of grinding, physical basketball. But compared to some other recent deals, Ellis was signed at a relative bargain (4-yrs, $44m) and he could form a formidable duo with Pacers star Paul George.
Five rookies to know
1. D'Angelo Russell, Los Angeles Lakers PG (Ohio State)
Russell is an offensive savant, throwing incredible passes to set up teammates and scoring as well. He should be one of the best players in the NBA before the next President gets settled.
2. Frank Kaminsky, Charlotte Hornets PF (Wisconsin)
Can Frank the tank blossom into a legitimate inside/outside NBA threat with his offensive skills and long-range shooting? Or will he be the latest name on a list of awkward, unathletic 7-foot flameouts? Michael Jordan's Hornets don't exactly have the best record of drafting known collegiate players and turning them into stars…
3. Kristaps Porzingis, New York Knicks PF (Latvia)
Might regret typing this, but Porzingis seems to be the international player that might finally 'get' playing in NYC and all that it entails. He's over 7-feet tall, lanky, and raw, but oh does he have a sweet stroke for a big man. Phil Jackson loves him, and our guess is New Yorkers will too. He'll start at power forward for the Knicks.
4. Karl-Anthony Towns, Minnesota Timberwolves PF (Kentucky)
The number one pick is always worth watching. Towns is in a good spot in Minnesota – low expectations to immediately perform, and a great mentor in Kevin Garnett.
5. Justise Winslow, Miami Heat SF (Duke)
See above about Towns, replace with Winslow (SI ran a double-issue). Winslow's game is a perfect fit for the NBA, and he may be the next James Harden.
Wait, we did an entire NBA Preview and didn't mention Anthony Davis?
It's the Brow's league now, and everyone else is just playing in it. Davis was recently tabbed by a staggering 86% of NBA General Managers as the player they'd most like to start a franchise with. He's got a center's body with a small forward's skillset, and videos of him draining threes in offseason workouts reemphasize that the sky's the limit. Nevertheless, the Pelicans have only made the playoffs once in Davis's career, and they got swept last season. It's still unlikely he can carry them much farther in the stacked Western Conference, but it'll be exciting to watch it play out.