"Golf is a good walk spoiled," according to the venerable Mark Twain. Many agree, as it's been known to suck weekends in a vortex equal parts expensive, frustrating, and time consuming. And yet – golf and the PGA TOUR (yes, it's officially capitalized) are incredibly popular, and chances are you've got friends and family who spend the weekend either out on the links playing golf or on the couch watching the pros.
Golf is also underratedly easy to follow for casual fans, and we've broken it down for you here. If you can be familiar with these 6 tournaments and know who these 14 golfers, you're set to make conversation as a golf fan. So come count to 20 with us.
Note – we don't attempt to breakdown the actual rules of golf, but start here if you are totally new!
First – why is following pro golf so darn popular?
+You can follow 'your guys' – There's a relatively limited universe of good golfers and their names pop up consistently as contenders for titles – it's fun having favorite golfers and watching how they ebb and flow vs. the competition. Plus if you get a working handle on who the best players are, you can watch them consistently for years as it's not a sport where you have to quit by your early 30s.
+The courses are majestic – Most important tournaments are played on the same track (lingo for course includes links, track) year in and year out. They're beautiful and challenging, and it's interesting to watch how pros approach them and also consider how tough and fun it would be to play them yourself.
+The degree of difficulty is serious – Per the point about the courses, those things are crazy hard – not your local country club! Yet the pros make it look effortless. Watching them bomb it off the tee, hit tough shots out of the rough (deep grass) and sand, and sink long putts on undulating greens is enough to make you shake your head in appreciation at the feat.
Tournaments – the four 'Majors'
Like tennis, golf has four Major Championships that are held annually. Winning all four in a year constitutes a 'Grand Slam,' which no golfer has done since Atlanta legend Bobby Jones swept the titles a few years ago in 1930. Tiger Woods got the closest in 2000-01 when he one all four tournaments consecutively, albeit not in the same yea**NOTE update on Tiger and Spieth.  The four Majors, in order, are:
1. The Masters (click here for Masters Primer-pedia)
The Details:  Played at Augusta National Golf Club in Augusta GA, the second weekend in April (after the NCAA Basketball Final Four, making late March a great time to buy a couch)
Defending champ:  Jordan Spieth ran away with the 2015 Masters, beating Phil Mickelson by 4 shots.
Primer:  The Masters are incredible – there's a reason the slogan is 'A Tradition Unlike Any Other.'  The course is beautiful and timeless, the hospitality is second to none, the trophy (an iconic Green Jacket) is bestowed on the current winner by last year's champion, and there's a par 3 competition on the Wednesday of tournament week where players' cute little kids caddie for them. Something for everyone. Tickets are tough though – you need to enter a lottery to have a chance, or be ready to pay out your nose to get there!
2. The U.S. Open 
The Details:  The course changes annually, with the most frequent choice being Oakmont Country Club in Pennsylvania, which will host for the 9th time in 2016.  The tournament is played the third weekend in June, such that the deciding Sunday is on Fathers Day. Following the Open is a great way to give Pops what he really wants (in addition to love and a probably phone call).
Defending champ:  Jordan Spieth won the open at much-maligned Chambers Bay in Tacoma, Washington.  It wasn't as easy as his Masters win – it took an epic choke job three-putt by Dustin Johnson for Spieth to clinch the second leg of the Grand Salami.
Primer:  Three cool things about our nation's championship:
+It's renowned for its difficulty – in fact, courses will often undergo major renovations to become longer, with more thin fairways for players to aim at, grow longer rough, and add hills to the greens just to become eligible for selection
+Anyone can qualify – it truly is an 'open' championship, provided you have a handicap of 1.4 or less (read: you basically break par each time you go out). Here's how to qualify each May, in case you were thinking about spending your next 10,000 hours becoming a golf maestro.
+In the event of a tie, the playoff is a full 18 holes played on Monday (instead of the usual format where golfers play additional holes till one of them wins one).  The last time this happened was in 2008, when it actually took 19 more holes for Tiger to finally beat Rocco Mediate.
3. The British Open (officially/annoyingly called The Open Championship)
The Details:  There are 9 courses in Scotland/England that rotate to host The Open Championship (which is technically older than the US Open so has original claim to the name 'The Open Championship, but seriously a little modifier for clarification never hurt anybody).  The Open is presented the third weekend of July **sips tea.**
Defending champ:  American Zach Johnson won in a dramatic playoff – the action stretched till Monday due to rain delays, ruining office productivity everywhere.
Primer:  We joke, but we love the Open, despite the fact that TV coverage regularly starts at 4am!  The Claret Jug (pictured) is one of the cooler trophies in sports. Most of the Open courses are marked by their blustery conditions and super deep bunkers, which makes viewing different and interesting compared to stateside tourneys.
4. The PGA Championship Open 
The Details:  The courses for the PGA Championship also cycle, though they keep the favorites in heavy rotation. 2015 course Whistling Straits in Kohler, Wisconsin is hosting for the 3rd time since 2004. And with a logo that badass, can you really blame them?  The fourth and final major is played the third weekend in August.
Defending champ:  Rory McIlroy edged Phil Mickelson by one stroke in 2014.
Primer:  The PGA Championship has the least mojo of the four, but does come with some cool perks. First, it's got the biggest major purse with a whopping $10mil distributed to the players. And if you win? You qualify to play on the PGA TOUR, for-ev-er.
Tournaments – best of the rest
5. The Players Championship 
The Details:  TPC (Tournament Players Club) is a series of 35+ courses technically owned and operated by the PGA Tour, with the general theme that they're designed for tournament play (all are named TPC (noun)). The flagship course, TPC Sawgrass in Ponte Vedra, FL, hosts the Players the second weekend in May. Yes, it's Mother's Day weekend, and yes, players wear pink for breast cancer awareness, which usually leads to cool moments. Just don't forget that your Mom wants love, and probably a phone call.
Defending champ:  Rickie Fowler won one of the most amazing tournaments we've ever seen, after going 6-under over his final 6 holes to force a playoff.
Primer:  Fun fact – the TPC Sawgrass course was literally designed for TV and ensuring that each hole had optimal camera sight-lines. No hole is more pristine than the par-3 #17, perhaps the most famous hole in all of golf. The hole is short – players typically hit a wedge, but the island green can be menacingly intimidating.  Over 525 PGA pros have hit it in the water since 2003(!).. our favorite meltdown? In 2013, leader Sergio Garcia hit *2* in the water on the final round and went onto lose to Tiger.   (source – NESN.com)
6. The TOUR Championship 
The Details:  The Tour Championship at East Lake Golf Club is so Atlanta that the logo is actually just a Coke bottle. It's like the Whistling Straits logo, only if the Whistling Straits logo was a Coke bottle.  It's held the third weekend of September and constitutes the end of the FedEx Cup playoff, which crowns the best overall golfer of the season.
Defending champ:  Billy Horschel won in 2014, taking home the $10-million prize (not a typo) for winning the FedEx Cup.
Primer:  This is one of the most fan-friendly tournaments – they capacity constrain the amount of tickets sold, and only invite the top 30 players to compete. It's a great way to watch the greats of golf up close and personal.  Our favorite is Saturday, 'College Colors' day, when the good folks at the Chick-fil-A Peach Bowl set up a hospitality tent and golfers re[ their school's gear.  After winning last year, Billy threw the Florida Gator chomp with pride – Gator Nation, indeed.
Players – the Primer top 14
Ranked unscientifically based on relevance, skill, and general mojo. All name links are to their Wikipedia pages if you want to read more. 
1. Jordan Spieth  –  age 21, went to University of Texas
Jordan Spieth is looking increasingly like future of American golf, and the sport overall. While he won't capture the Grand Slam (this year), winning the Masters and U.S. Open at age 21 is remarkable, his accomplishments outweighed only by the poise he shows on the course and with the media. We love the story of Spieth's relationship with his special needs sister, which he credits for keeping him grounded. Spieth's got brands lining up too, most notably styling as Under Armour's poster boy for golf. The only other sponsorship he might need to add? Rogaine!
2. Rory McIlroy  –  26, Northern Ireland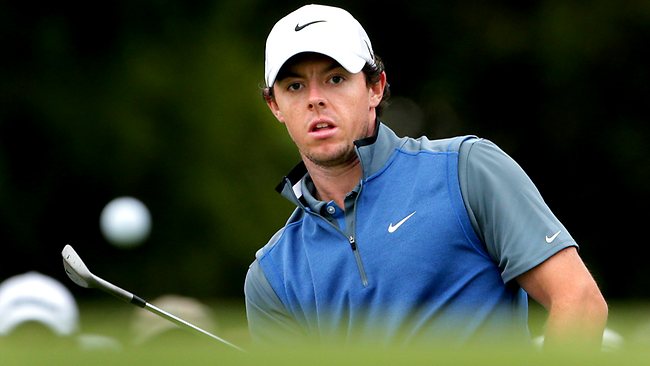 Rory is Nike's answer to Under Armour's Spieth, a golden boy in his own right. The once-chubby, now-fit Northern Irelander has one four majors and has long been heralded golf's next King (and he's actually ranked #1 overall), but he's struggled with consistency since his much publicized switch to Nike clubs in 2012. Rory was once engaged to tennis star Caroline Wozniacki, but they broke it off (on the phone!) last year. Rory went out and won a tournament the next weekend..
3. Tiger Woods  –  39, Stanford
Tiger, Tiger, Tiger.. it's really impossible to characterize all he's done for America's collective awareness of golf. Born 'Eldrick Woods', Tiger has been wowing us since he went on Letterman at age 2.  He's famous for wearing red on Sundays, epic fist pumps, and the reason you've heard of a golden shower (NSFW).  Now, after a dominant career, questions abound regarding aging Tiger's abilities.. he's got 14 career major titles, and it was long presumed he would surpass legend Jack Nicklaus's count of 18. Can Tiger resurrect his dominance? Our money's on 'no,' but it's hard to watch the living legend fade.
4. Dustin Johnson  –  31, Coastal Carolina
Dustin, aka 'DJ,' needs to go ahead and win a major, and soon. He's a lanky, super-athletic (check these dunks), yet he's best known for absolutely choking away the U.S. Open to Spieth, and his troubles off the course. Deej took a leave of absence from golf in 2014 to seek help for 'personal challenges,' which Golf Magazine reported was a nice little cover up for a cocaine suspension.  Johnson is engaged to Paulina Gretzky, and they have a son (note – Paulina is daughter of hockey's greatest-of-all-time Wayne Gretzky – imagine that kid's genes!)
5. Rickie Fowler  –  26, Puma Oklahoma State
Pretty Rickie (no one actually calls him that, but his middle name is actually Yutaka) has come along way. He brashly embraces his Puma flat bills and his Oklahoma State orange, and let's just say that if this isn't your look on the golf course, he can be pretty easy to root against.  We're coming around on post-haircut Rickie, though, and will be happy when he finally wins the major he's due. Despite only having just 2 PGA Tour wins, he finished in the top-5 at every major in 2014. Matter of time.
6. Phil Mickelson  –  45, Arizona State
If Dustin Johnson is the athlete of the group, Phil is not. He's the elder statesman that one of your Uncles probably always rooted for against Tiger. 'Lefty' is a three-time Masters winner and has captured the British Open and PGA Championship – never the U.S. Open, however, despite finishing 2nd *6* times!  Phil reps sexy brands like Barclays, KPMG, and Exxon.. awesome, right? Yeahh he made $48m from endorsements in 2015.
7. Bubba Watson  – 36, Georgia
Bubba is a surprisingly polarizing lefty who absolutely crushes the ball with his pink driver (for cancer awareness). The 2-time Masters champ has this good 'ole boy, never had a golf lesson, openly religious persona. Yet many don't like his shtick – an anonymous survey of 103 PGA pros found Watson the least likely to be aided in a parking lot fight. (no word why they asked them that ridiculous question in the first place..)
8. Jason Day  –  27, Australia
Jason Day is another likable young pro who seems destined to capture a major, with three second-place finishes to his name. The Aussie's most memorable performance to date came in the 2015 U.S. Open, when he collapsed from vertigo but steadied himself to play shockingly good golf en route to a top-10 finish.
9. Adam Scott  –  35, the heavans Australia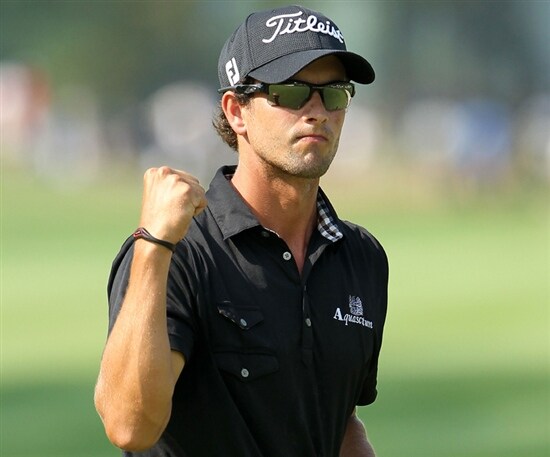 Good looking bro Adam Scott is a surfing enthusiast, which we filed under things that don't shock us. He won the 2013 Masters and was ranked #1 for a time, but otherwise just know that he uses this annoyingly dorky long putter that you can probably get a golf fan riled up about.  He's also a brand ambassador for Uniqlo, a clothing company beating the Gap at the Gap's game in America. (Primer – more than just sports babble!)
10. Patrick Reed  –  24, expelled from Georgia, finished at Augusta State
If Spieth is the guy you love to love, Reed may be the one you love to hate. It seems like the media is angling for that, yet he's also just such an easy target and so abrasive.. cursing on the course.. declaring himself a top-5 golfer.. being fat..  Last year he said his pre-round playlist included three songs on repeat: Aloe Blacc's 'The Man,' Katy Perry's 'Dark Horse,' and Imagine Dragons 'Radioactive.'   What a legend.
11. Justin Rose  –  34, England
Rose won the 2013 U.S. Open to become the first Englishman to capture the stars and stripes title since 1970. He's steady, albeit not flashy, and always seems to be in the hunt.
12. Matt Kuchar  –  37, Georgia Tech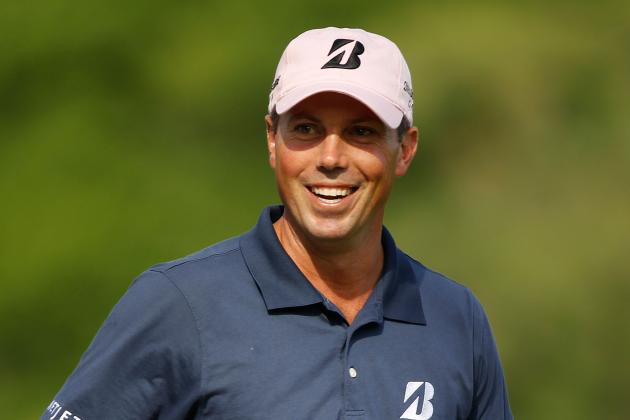 "Kuuuuuuuch" as the crowds adoringly call him, is one of our favorites. The lanky, 6'4 Kuchar ambles in an easygoing way on the course befitting his hometown of Sea Island, GA. His biggest win was the 2012 Players, which ended with an awesome celebration with his wife and kids. The American dream, right there.
13. Billy Horschel  – 28, Florida
Billy Horschel looks like he should be playing shortstop for a Major League Baseball team with his toned physique and compact frame. He and his smooth swing got hot en route to winning last year's FedEx cup, and he spread around some of the $10m paycheck, including $10k to locker room attendants at the East Lake club and $1m to his caddie!
14. Tie! – Brandt Snedeker  – 34, Vanderbilt  and Sergio Garcia  –  35, Spain
We couldn't leave out either of these guys. 'Sneds' has the best flow on tour and is a really easy guy to root for, playing fast and wearing his heart on his sleeve.  Sergio may be the best to ever do it that hasn't won a major, and he may not. He's come tantalizingly close, but will just have to fall back on his $28m of career earnings if he gets sad.
---
What else do you need to know about golf – got questions? Send us a note and we'll make sure you're filled in.